The Odyssey Minivan by Japanese Car Maker, Honda has been in the North American Markets as a solid family van since 1994! As of the date of this article, it has been in service for nearly 25 years! The Odyssey is now in its fifth generation / body style, and going strong.
This article will briefly discuss as a consumer report the issues that are common with the Honda Odyssey: Transmission, Rust, and Engine Oil Burn.
We will also discuss why it may be easier for you to simply sell us your Odyssey mini-van before you spend more on it than what its worth! We always pay TOP CASH with free towing & removal for all Junk, Scrap, Old, and Unwanted Cars, trucks, and Vans.
1st Gen: 1995-1998
This generation was Honda's first minivan. It used many parts from the Honda Accord, like its inline 4 cylinder engine. It came in LX (base) and EX (fewer seats and more features).
Did you know that this car was re-branded as the Isuzu Oasis in 1996-1999?
Like the Honda Accord, all of the 2.2L four cylinder engines had reports of oil buring issues after about 150,000 KM in service. This issue related to valve seal issues or piston rings. Running these engines low on oil would result in engine seizure. There was no fix for this issue.
Because the engine was so small, it did not have enough power to cause many transmission issues during these generations.
Issues also reported related to rusting rear suspensions: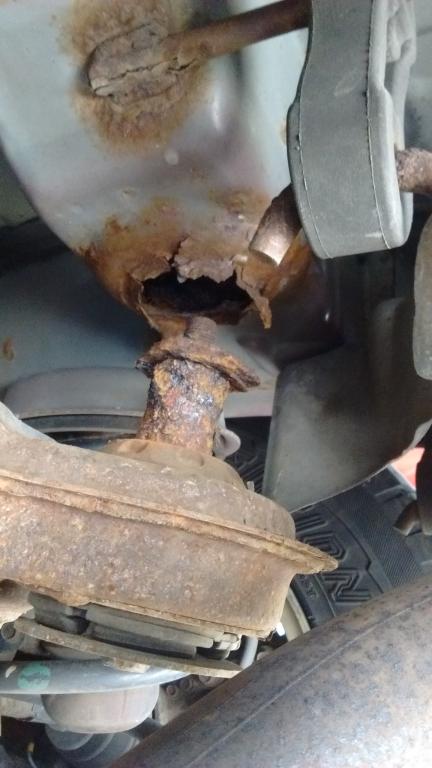 2nd Gen: 1999-2004
By far the most popular / well-know generation, this was the first to be assembled in Canada. This generation was considerably larger and heavier. Therefore, came with a 210-HP 3.5L V6. Same trim packages, EX and LX (more basic).
These vans, according to consumers, had serious rust and transmission issues, but fewer engine related issues.
The sheer power of the engine with the weight of the van itself caused major transmission isues, as well.
These issues required a rebuilt of the transmission, costing up to $3,000!
3rd Gen: 2005-2010
Coming with a fresh face lift, more features, and even more power the third generation came with much of the same / similar styling as the 2nd Gen, but with some notable improvements.
Side Curtain Air Bages
Integrated sun-shades in the rear doors
Magic rear seats (folding flush)
255 hp V6
EX-L and Touring Models (top of the line!
Problem areas included body integrity, which includes paint wear and rusting, body hardware bumpers being loose, audio system, brakes and suspension according to the Consumer Reports issue of April 2006. According to the online edition of Consumer Reports in June 2016, transmission problems were better than average for 2006 models. Crash test ratings have been five star in every test but the 2005 had a safety concern. "During the side impact test, the driver door became unlatched and opened. A door opening during a side impact crash increases the likelihood of occupant ejection."

https://en.wikipedia.org/wiki/Honda_Odyssey_(North_America)
These vans, still carried the common transmission failure issues as the generation before. 
4th Gen: 2011-2017
Compared to the generation before, this generation was again, faster, more powerul, and slightly larger. New options included a 12-speaker 650W system,GPC, XM sat radio, and HID headlight options (touring). As well, the van now came with all-new aluminum hood and fenders. During this generation, the IIHS found the following:
The Insurance Institute for Highway Safety (IIHS) found the Odyssey to have the lowest overall driver death rate in its class with 0 deaths per million registered years. Beginning with the 2013 model year, all Odysseys came equipped with a rear-view backup camera.For 2014, the front crash structure was upgraded.
All together, each generation improved but the most common issues were rust and transmissin related issues among almost each geneartion.
Do you own a 1st, 2nd, 3rd, or 4th Generation Honda Odyseey?
Does your van need more than minor repairs? If so, read here to find out why it may be better for you to sell us your van for cash, today and save the costs and headaches to come!
How do I know when my car is at the end of its useful life?
If you answer YES to any one of these below questions, it may just your best bet to call us. Let us handle everything for you.
Is your car more than eight years old?
Does your car need more than a few minor repairs
Will it cost more to fix than what you can sell it for?
Will it cost more to maintain than payments on a new comparable car?
If you answer yes – it may be time to consider your job and family, keep a reliable car and sell us your old one! Its time to get cash for your old, junk, scarp, unwanted car. We proudly service the Toronto, Pickering, Ajax, Oshawa, Markham, Scarborough, North York, Etobicoke, Mississauga, Brampton, Vaughan, Woodbridge, Newmarket, Bradford, Keswick, Newmarket, Aurora, Richmond Hill, Thornhill and more! We pay up to $15,000 for cars and you don't need to lift a finger!
If your car is costing more than its worth! Call us today at 1 877 647 5865 or complete our form (we'll call you!)
Don't forget to follow us on Facebook & Twitter
April 10, 2020
Uncategorized
Car Probkes, Car Problems, Car Towing, Cash for Cars, Cash for my car, Cash for Old Junk Scrap Cars, Concord, CoronaVirus, Honda Car Issues, Honda Odyssey, Honda Odyssey Transmission, Honda Oil Burn, Hyundai Entourage, Junk Car, Junk Car FAQ, Junk Car Towing, Junk Car Vaughan, Kia Sedona Scrap, Kleinbug, Maple, Odyssey Tranny, Old Car Disposal, Ontario, Pickering, Scrap Car 101, Scrap Car Removal, Scrap Car Woodbridge, Scrap Cars, Sell my car, Trade In Car, Vehicle Buyers, Vehicle Towing