Cash for Scrap & Junk Cars in Nobleton with free Towing & Removal
Nobleton is an unincorporated community in the Township of King, Ontario, Canada. We pay Cash for Scrap & Junk Cars in Nobleton. Below you will find some information about how to sell your car, truck, or van for scrap or as junk for the most cash, quickly with free Towing and Removal for Disposal! If you are local to Nobleton and its surrounding areas, please keep us in mind for all of your scrap / old car removal needs.
Nobleton is the third largest community in the township and is located between King City and Bolton along King Road and directly north of Kleinburg along Highway 27.
First settled in 1812 due to its location and proximity to King City, Bolton, Kleinburg and Schomberg. Hotels and Taverns were built to serve travellers. The village takes its name from Joseph Noble who was an early settler and local tavern keeper.
Nobleton has seen alot of growth over the years, but more specifically, in the 1950's and 1960's there was development beginning in the village's southwest, and housing developments began to be built in the northern part of the village in the 1990's and 2000's. 
As of the 2021 census, the population of Nobleton was listed as 6,507. Although it is considered one of the smaller (population wise) communities in the Township of King, it is still growing and developing. 
Map of Nobleton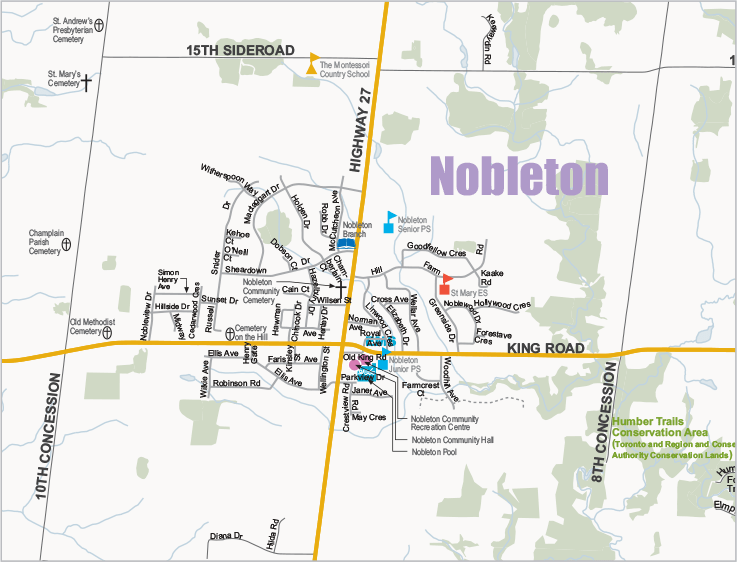 What to do if you need to sell your car quick?
Does your car, truck, or van need more than minor repairs? If so, read here to find out why it may be better for you to sell us your vehicle for cash, today and save the costs and headaches to come!
How do I know when my car is at the end of its useful life?
If you answer YES to any one of these below questions, it may just your best bet to call us. Let us handle everything for you.
Is your car more than eight years old?
Does your car need more than a few minor repairs
Will it cost more to fix than what you can sell it for?
Will it cost more to maintain than payments on a new comparable car?
If your answer is yes – it may be time to consider getting a reliable car and selling us your old one! Its time to get cash for your old, junk, scrap, unwanted car. We proudly service Nobleton, Toronto, Pickering, Ajax, Oshawa, Markham, Scarborough, North York, Etobicoke, Mississauga, Brampton, Vaughan, Woodbridge, Keswick, Newmarket areas and more! We pay up to $15,000 for cars and you don't need to lift a finger!
If your car is costing more than its worth! Call us today at 1 877 647 5865 or complete our form (we'll call you!)
Don't forget to follow us on Facebook & Twitter
December 6, 2022
Scrap My Junk Car
Auto Recyclers Nobleton, Auto Recycling Nobleton, Auto Wreckers Nobleton, Car Buyers Nobleton, Car Buying Nobleton, Car Problems, Cash for Car Nobleton, Cash for Cars, Cash for Cars Nobleton, Cash for my car, Cash for Old Cars, Cash for Scrap Car Nobleton, Cash for Scrap Cars Nobleton, Junk Car Towing Nobleton, Junk Towing Nobleton, Scrap Car Nobleton, Scrap Car Removal Nobleton, Scrap Car Towing Nobleton, Scrap Car Whitby, Scrap Cars, Sell used car, Vehicle Buyers, Vehicle Buyers Nobleton, Vehicle Buying, Vehicle Buying Nobleton